Being able to smile without feeling self-conscious, the freedom to eat what you like or having dentures that feel comfortable may seem a distant dream for some. Denture Creations makes that dream a reality by helping people every day to achieve that great smile, and also improve their quality of life by having comfortable fitting, high quality dentures.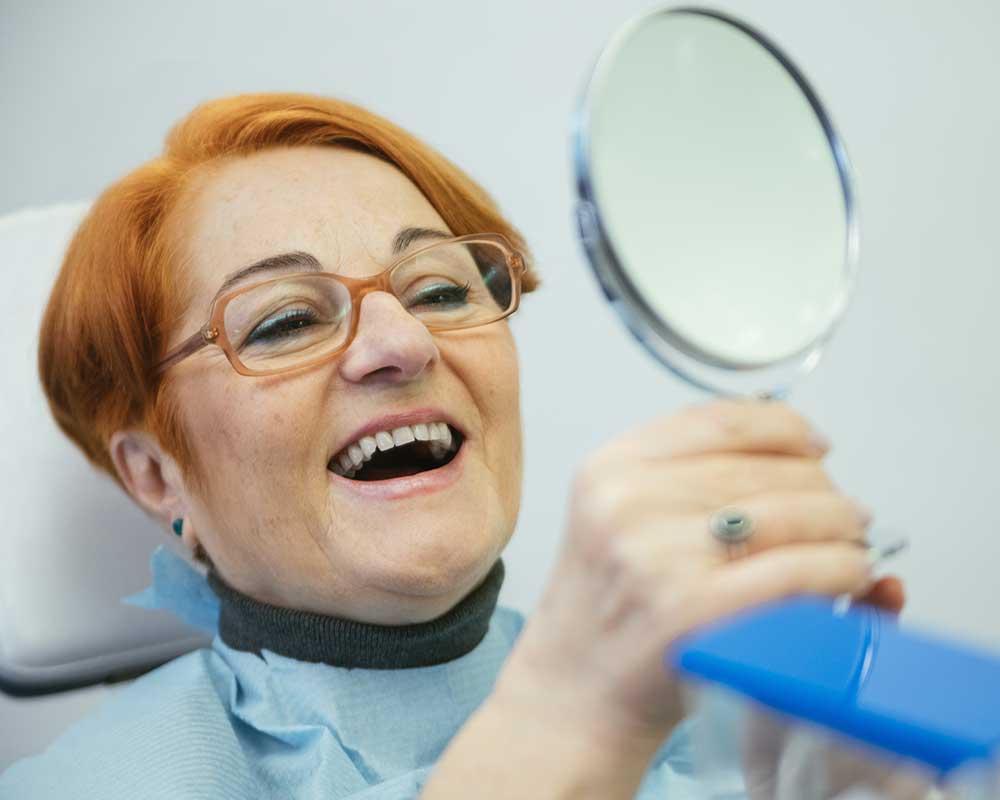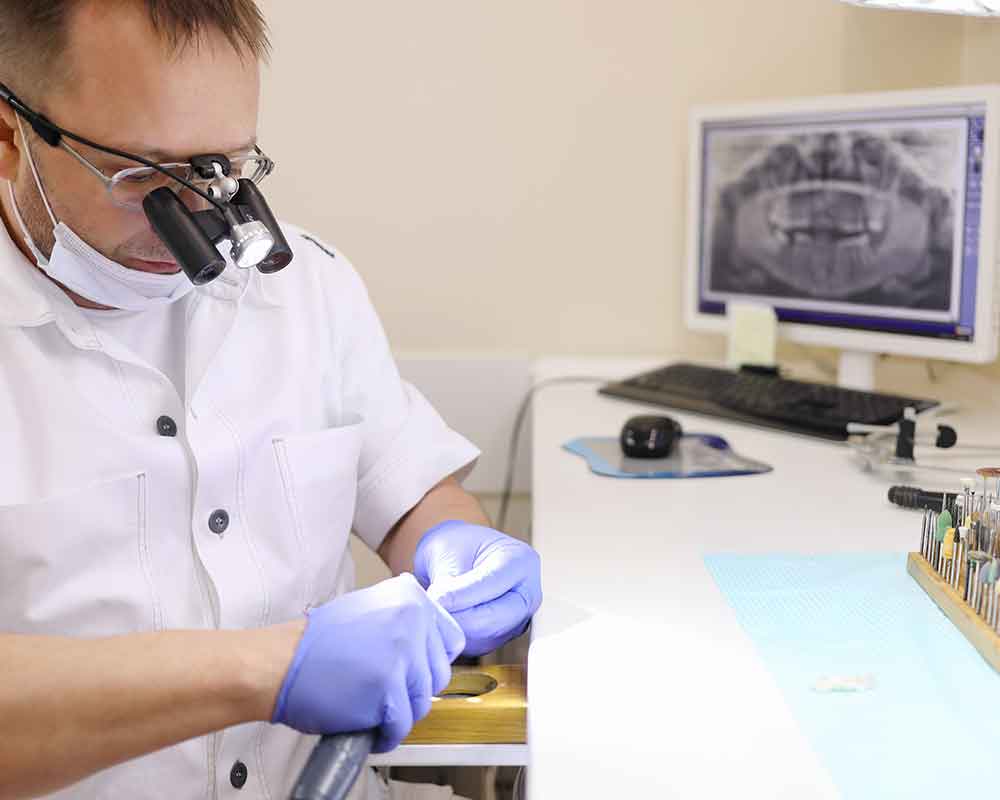 At Denture Creations, all of our high quality dentures are created on site using only premium products. Denture Creations is fast becoming a leading provider of denture services within New Zealand. With a combination of highly skilled technicians and using the latest in cutting-edge technology, Denture Creations ensure they can create a smile that you can be proud of.
Denture Creations are also the experts at Custom Mouth Guards, so if you are participating in extreme sports, we can provide you extreme care without losing out on comfortability.
A highly skilled clinical dental technician with a wealth of knowledge and over 34 years experience in the industry. Situated in Highland Park, Denture Creations clinical laboratory is state of the art and offers a relaxing and friendly atmosphere – you can even come into the lab and watch your dentures being made from beginning to end!
Clients are Denture Creations' highest priority and we offer a customer guarantee that is simply – "if it isn't right, we will fix it".
Call or drop by and meet the friendly team to arrange a free, no obligation consultation. No referral needed.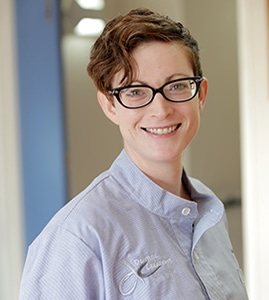 Sian Griffith
Clinical Dental Technician
Sian was born in Wellington, but into a home full of Welsh history and culture as both of her parents originate from that other great rugby nation. Sian spent her early years growing up the kiwi way in Wellington.Later moving to Auckland, Sian decided to further her career in the restaurant industry, she made a change in direction slightly, (from feeding the mouth to fixing what was in it!). Decision made, she moved to Dunedin, and completed a bachelor in Dental Technology in 2004, and then a Post Graduate Diploma in Clinical Dental Technology in 2009, both at Otago University. Sian moved back to Auckland beginning her new career, along the way meeting partner Lance. They were very happy to add to their family with the arrival of their son, Huw, in 2012. Sian enjoys playing social indoor netball but more so these days, reading 'Hairy Mclairy' books to Huw and pottering in the kitchen. Sian joined our team at Denture Creations in 2013.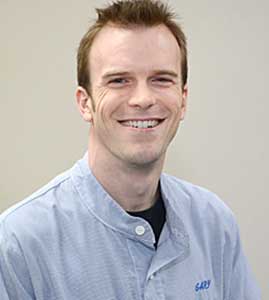 Gary Inggs
Clinical Dental Technician
Gary hails from Durban in South Africa. He graduated from Natal Technikon in 1998 with a National Diploma in Dental Technology and then gained further qualification in 1999 with a Bachelor of Technology in Dental Technology.
Gary immigrated to New Zealand in 2010 and also commenced employment with Creative Dental Ceramics and at the same time bringing with him his specialty in High Quality Prosthetic Denture work. Gary has since gained his qualification, "Post Graduate Diploma in Clinical Dental Technology", from Otago Dental School, in 2015. Gary is married to Tracey and has two young children – Chloe and Ryan. He enjoys golf and squash in his spare time, however that is rare these days.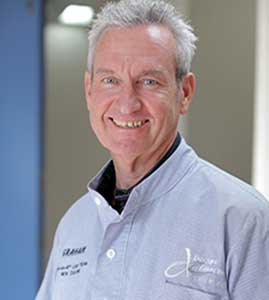 Graham Morrissey
Clinical Dental Technician
Born in South Africa, Graham's initial dental technology experience was with the South African Army in 1970. He later completed an apprenticeship with Dental Mechanicians Board in 1976. Graham immigrated to New Zealand in 1998 and is proud to call himself a Kiwi. In the same year he passed the Dental Technicians Board Registration Exams. In 2003 Graham qualified with Post Graduate Diploma in Clinical Dental Technology. Although only recently joining the team at Denture Creations in 2012, Graham brings with him a wealth of knowledge and experience, coupled with his great sense of humour and comedic wit, he has already built a great patient base. He enjoys riding his BMW Motorbike, exploring New Zealand and spending time with his grandchildren.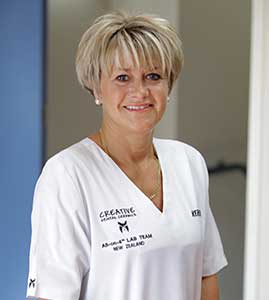 Kerry Moore
Receptionist and Personal Assistant
Born in England, Kerry was educated in the English school system, qualifying as a Dental Assistant in 1985. Kerry immigrated to New Zealand in 1993 where she also gained her NZDA qualification in 1996. She has had 20 years chairside experience including 10 years as an implant and oral surgical assistant. Kerry joined our team at Creative Dental Ceramics in 2009 and has used her wealth of experience in practice management to assist in the smooth running of Denture Creations. Kerry is married and has two children. She enjoys her healthy, happy lifestyle here in New Zealand.

Our denture lab offers large and comfortable waiting areas.
Our denture lab offers large and comfortable waiting areas. The workbenches and seating are imported from Italy to ensure the latest standards in ergonomics and safety. Our systems and machinery are kept to the highest of standards. We use machinery from a range of suppliers and countries to create a denture lab New Zealand clients can trust.
We have a number of systems in place to allow an overlap of processes. This prevents downtime in production due to machinery breakdowns or failures. We maintain all machinery both in-house or VIA a service specialist.
Contact us to find out more or to book an appointment.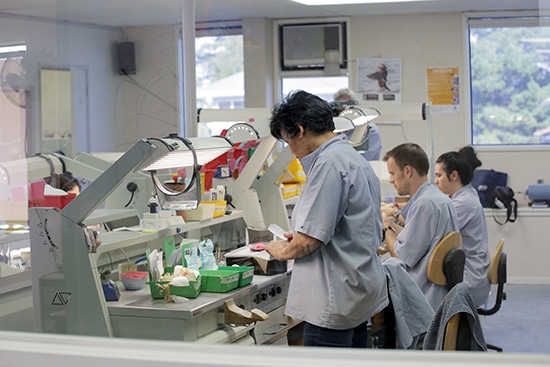 Absolutely thrilled with my new dentures. Staff so friendly and accommodating, professional and very knowledgeable - thank you so much
Margaret/ Dannemora Gardens
Im wrapped, my denture broke this morning, luckily, I had a card and called. Within 5 hours I had my teeth back. Love the service and will tell all my friends. Love your work, excellent service!
Jane / Maraetai
IHad a wonderful experience - excellent treatment from very professional staff, a pleasure to deal with, Thank you for the special attention

Pieter/ Te Awamutu
Many thanks for a great job and very friendly service, nothing is ever too much trouble, much appreciated.

Daisy/ Pakuranga
Feeling at home here with very friendly staff, great job too of course!

Felix /Tamaki Heights
Pleasant, friendly and professional every visit. So much care and attention to detail, couldn't ask for better!

Sandra/ Ngatea
Very caring staff. Going way beyond service, I have great respect for all their help, Thank you all so much.

Karen / Pakuranga
"I was extremely impressed with the highly professional, all round service and quality of workmanship that I receive each time I visit Denture Creations. I am very impressed with the friendly and professional service I constantly receive and have no doubt the practice is at the forefront of denture clinics and denture laboratory services in the Auckland region"
Sir Barry Curtis
Mayor of Manukau City 1983 – 2007 and resident of Bucklands Beach
"I have had six sets of dentures in my 85 years, however the latest set I had made by Denture Creations is astronomical. I found Denture Creations to be very particular, they are perfectionists and give every attention to the job at hand"
Basil Campion, Bucklands Beach
"The friendly team at Denture Creations always make an extra effort to accommodate me so that I feel relaxed during all my clinic visits"
Mrs D Robinson
"Smiles by design" The team at Denture Creations ensures that this phrase is true. The moment one enters their reception area you are received with a smile in a professional and friendly atmosphere. Each team member which I came in contact with made me feel welcome and ensured I was pleased with the final result."
Sarel Fourie

At denture creations we create a smile that you can be proud of.
Level 1, 168 Aviemore Drive, Highland Park, Auckland.